MELVIN CONKLIN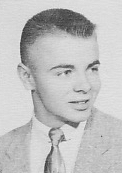 Pleasant Valley – Melvin B. Conklin, 36, of West Road, died November 2, 1975 at his home. A certified dental technician, he had been associated with the Craig Dental Laboratory In., Poughkeepsie.

Born in Poughkeepsie on Dec. 5, 1938, he was the son of Raymond and Kathryn Doyle Conklin of Pleasant Valley, who survive.

Mr. Conklin was an elder of the Pleasant Valley Presbyterian Church and was a member of the church choir. He was a member of the Pleasant Valley Jaycees, served on the Town Planning Board and was active in the Special Olympics Fund. He was a graduate of Arlington High School, class of 1957.

Survivors, in addition to his parents, include his wife, the former Miss Joyce Sherman; a brother, Jerry Conklin of Pleasant Valley; two children, Scott and Teri Conklin, at home; and several nieces and nephews.