MARGARET "BERNIE" (JACKSON) PARISE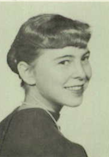 Margaret B. "Bernie" (Jackson) Parise of Poughkeepsie, passed away at home surrounded by family and caregiver assistance on Monday, June 14, 2021. She was born on January 14, 1940 in Poughkeepsie, New York, the daughter of the late Howard and Eva Alger Jackson. On December 17, 1962, in Hyde Park, New York, Bernie married John A. "Jack" Parise who survives at home.

Bernie was a lifelong area resident, graduating from Arlington High School in 1957. She was a 1961 graduate of Vassar Brothers Hospital School of Nursing. Bernie had a long career as a registered nurse working at Vassar Brothers Hospital, St. Francis Hospital, and numerous other facilities throughout the Hudson Valley. She continued her passion of learning and healthcare, earning bachelor and master degrees in holistic nutrition as well as a doctorate in naturology.

Bernie was a member of Vassar Brothers Hospital School of Nursing Alumni. She loved animals, dancing, gardening, decorating, and always loved to look her best when she went out.

In addition to her husband, Bernie is survived by her children, Kimberly Contelmo and her husband Frank of Poughkeepsie, John Parise and his husband Marcus McGregor of Athens, and Elizabeth Parise-Waits of Atlanta; grandchildren, Ashley Billings and her husband Robert, Chelsea Veach, Emma Waits, and Hanna Waits; and great grandchildren Connor and Sophie Billings. The family would like to offer special thanks to Shelly Ann Morgan for her companionship and compassion in Bernie's medical care.