LENA (KING) ROSE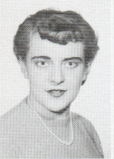 Lena Diane Rose, 83, of Sun City Center, FL, passed away on Sept 29, 2023 in Ghent NY. Lena was born in Poughkeepsie, NY to Edward and Anna King, on Dec 8, 1939. She graduated from Arlington High School.

For her working years, she was a bookkeeper and ended her career working with her husband, Edward, at their business, Hudson Valley Auto Appraisers in Albany, NY. Lena enjoyed spending time with family and friends, as well as volunteering at her church, local rescue squad and hospital. She was a life member of the Cascade-Vassar, Chapter 347 of the Eastern Star.

Lena is survived by her loving daughter, Diane Rose Ryan of Valatie, NY, her grandchildren Melissa Taylor (Christopher) and Allison Ryan, her great-grandchildren, Austin and Riley. Lena was predeceased by her parents, Edward and Anna King, brothers Erwin and Joseph King, and her true love, Edward T. Rose, who she missed deeply.