JOAN (CASEMENT) WILLOUGHBY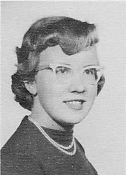 GEORGETOWN, TEXAS — Joan Lucile Willoughby, 77, of Sun City Texas in Georgetown, Texas passed away the morning of May 30, 2017, at home after a long struggle with dementia.

The third of four children born to Harry Casement and Dorothy (McKay) Casement, Joan arrived at Vassar Hospital in Poughkeepsie, NY on November 4, 1939. After graduating from Arlington High School in 1957, she went to work for IBM in Poughkeepsie as a secretary. It was at IBM that she met her future husband and life partner, Douglas R. Willoughby, who survives at home. She and Doug married on April 14, 1962 at the Poughkeepsie Reformed Church. They are the parents of three children: David, Glen, and Janine all of whom live in the Austin area. In addition to her husband and children, she is survived by her daughter-in-law, Lori; six grandchildren: Jeffrey, Daniel, and Gregory Willoughby, and Paige, Kathryn and Jason Giordano all of Austin, TX.

She is also survived by brother, Robert Casement and wife Ada of Poughkeepsie, NY; brother, Douglas Casement of San Antonio, TX; sister, Carol Lewis and husband David of Boynton Beach, FL; and brother-in-law, Ross Willoughby of Framingham, MA; as well as several nieces, nephews, and cousins.

In her teens and early adulthood, Joan was a member of the Mid Hudson Valley Triangle. She sang in the church choir and also taught Sunday School at the Poughkeepsie Reformed Church.

While raising her children, she was a very involved member of the New Hackensack Reformed Church, Wappingers Falls, NY serving as Church Treasurer for 14 years, as well as a member of the Church Nursery School Board. Joan was a member and volunteer in the Mid Hudson Tres Dias community, in addition to being a volunteer with the Girl Scouts. With her family, she enjoyed boating, water skiing, and camping trips that took them over much of the lower 48 states.

In 1998, Doug and Joan retired to Sun City Texas where she enjoyed crafting and socializing with friends at the Creative Clay and China Club, Fabric and Fiber Club, and the Alternative Healing and Wellness Club. She regularly exercised at the Fitness Center and routinely walked the neighborhoods of Sun City. Her greatest joy was gathering her family at their home to celebrate holidays and birthdays together.

She was a member of The Worship Place, an interdenominational church in Sun City where she played English Handbells as part of the church Bell Choir.