JAMES "JIMMY" COLLINS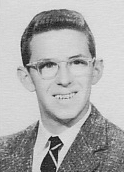 Hopewell Junction - James E. Collins, 77, a lifelong area resident, died on November 3, 2016 at Vassar Brothers Medical Center surrounded by his loving family.

Born in Poughkeepsie on March 26, 1939, he was the son of Dennis and Harriet Ganung Collins. Jim proudly served our country in the US Army and was a dedicated employee of the Grand Union in Hopewell Junction for almost 45 years.

Jim was a member of the Hopewell Reformed Church, and led Bible studies at the church, local nursing homes and the Senior Center. He also served with Tres Dias and the Kairos Prison Ministry where the residents lovingly called him "Jimbo." Jim enjoyed bowling, golfing, fishing, doing jigsaw puzzles, playing pinochle and watching sports, especially his Giants and Mets. More than anything, he loved spending time with his family and friends. He was a kind and gentle soul that had a soft spot for everyone, no matter what.

On January 26, 1964 at the Hopewell Reformed Church, Jim married Holly Ossenkop who survives at home. He lovingly called her "his bride" and would be the first to boast about the loving care she provided to him. He is also survived by his daughters, Amy Griffin and husband Bill of Wareham, MA, Beth Collins of Jersey City, NJ, and Lisa Collins of Hopewell Junction; his grandchildren, Kaitlyn Griffin of Bourne, MA, Kimmie Griffin of Wareham, MA, Brandon Santiago of Poughkeepsie, James Santiago of Jersey City, NJ and Mari Bernabel of Jersey City, NJ; his great- grandchildren, Christina DiRienzo and Logan Zewiey of Bourne, MA; his sister, Nancy Collins of Fishkil; and many loving nieces and nephews. He was predeceased by his great-granddaughter, Kirah DiRienzo.

The family would like to thank the staff at Vassar Brother Medical Center, especially his nurse Cathy, for the exceptional loving care they provided.