GAIL VARONE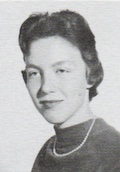 Fort Myers, FL - With profound sadness, we announce the passing of our beloved mother, Gail V. Crotty of Fort Myers, FL. Gail died on May 3, 2023, at Avow Hospice from complications of vascular dementia.

She was born June 27, 1939, in Poughkeepsie, NY to Anthony Varone and June Green. After high school, she married Alan Crotty who preceded her in death in December 2020.

Gail lost her mother at a young age. Shortly after, her father was deployed to Japan during World War II. She learned to be self-sufficient as well as the importance of extended family. She grew particularly close to her mother's sister, Rita Marone and her family who remained a key presence throughout her life. One of Gail's joys was gathering extended family and friends for her annual Easter brunch.

Gail balanced working, participating with her and her family's activities, and civic engagement. She took her first job when she was still in high school, as a telephone operator and message runner at Vassar college. She later worked at IBM, Conklin Electronics, and as a columnist for the Pennysaver magazine and editor of Fireline for the Dutchess County Bureau of Fire. Having married out of high school, she returned to school and attended Dutchess Community College, graduating with her son.

Gail was Town Historian of Pleasant Valley as well a member of the library board, served as scout leader for both her children, was a member of the Pleasant Valley Fire Department Ladies Auxiliary, and participated with local softball and bowling leagues. After retiring to Florida, she found a career in real estate.

Gail is survived by her daughter Lisa of Fort Myers; her son Alan, his wife Linda and granddaughter Erika, all of Houston, TX, as well as many beloved cousins. She will be missed by all.