EUGENE FROEHLING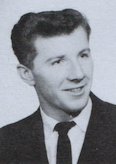 Eugene F. Froehling Jr. 82, of Pleasant Valley, died on Tuesday, February 22, 2022, at Vassar Brothers Hospital in Poughkeepsie, New York.

He was born on April 27, 1939 in Astoria, Queens. He was the son of the late Eugene F. Froehling Sr. and Ann Wiedeman. He graduated from Arlington High School in 1957.

Eugene proudly served his country in the United States Army from 1963 to 1965. Upon his discharge from the Army, he went on to work for Local 155 International Brotherhood of Painters and Allied Trades. He was the President of his Local 155 union where he also taught the apprenticeship program for many years.

On Saturday, July 27, 1963, at Saint Stanislaus Catholic Church, he married the former Yvonne Salter, previously from Sussex, England. They were married for 58 years. Mrs. Froehling survives at home.

Eugene thoroughly enjoyed gardening, shopping and cooking. He was a loyal NY Giants fan. He was passionate about coaching his son's baseball teams and spending time with his family and grandchildren.

Eugene was instrumental in helping to build an addition on Saint Stanislaus Catholic Church, where he was also a former member of the Knights of Columbus Council.

Eugene is survived by his two children Keith Froehling and wife Erin; of Nashville, TN; Kathleen Thompson and husband Edwin, of Highland; six grandchildren, Isabella, Nathaniel, Aiden and Lily Froehling, Ethan and Emma Thompson.

He is also survived by his sister Patricia Ulmer, nephew Mark Ulmer, and many cousins.

Along with his parents he was also predeceased by a grandson, Patrick Froehling.