DENNIS MCCOMB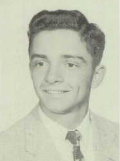 Rotunda West, FL - Dennis Cooper McComb, Sr., 81, of Rotunda West, Florida passed away on December 16, 2020 at home. He was born in Utica, NY on October 18, 1939, the son of Rody Williams and Virginia Cooper. He was raised by his adoptive parents, H. Morris & Pauline Cooper McComb. All have predeceased him.

Dennis attended Dutchess Community College and S.U.N.Y. Oswego. His wife of 61 years, Priscilla Rae Hawley McComb, survives at home. He was a resident of the City of Poughkeepsie prior to retiring to the Outer Banks, NC and Rotunda West, Florida.

Dennis retired as the Fire Chief for the City of Poughkeepsie. He served for 20 years as a firefighter, Lieutenant, Deputy Chief and then Chief. He also owned and operated McComb's Stationery Store in Poughkeepsie.

He was a member of St. Mary's Church in Poughkeepsie and St. Francis of Assisi Church in Florida.

Survivors include his son: Dennis C. (Judy) McComb, Jr. of Texarkana, AK; daughter: Virginia R. (John P.) McAliney of Keller, TX; daughter; Marjorie M. (Kevin P.) Muggleston of Waterford, CT.; daughter: Mary J. (Edward) Donnell of Nebraska and son: Colin P. (Jennifer) McComb of LaGrangeville, NY and a sister: Marilyn Houston of Tallahassee, Florida. There are 19 grandchildren and 14 great-grandchildren. He was pre-deceased also by a grandson, David McComb, and a great-grandchild, Ender Shirley.