JACK ATKINSON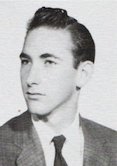 CLINTON, NY — Jack Gerald Atkinson, 84, of Clinton, passed away on Thursday, November 24, 2022, with his loving wife by his side at St. Elizabeth's Medical Center.

Jack was born in Poughkeepsie on October 20, 1938, to the late Gerald and Marion Purcell Atkinson. In 1958 he moved to New Hartford, and he attended the Mohawk Valley Technical Institute. After college he began working for Niagara Mohawk and eventually National grid from where he retired in 2000 as the Supervisor of Gas Operations after 42 years of service.

In 1980 he found out the true meaning of love at first sight on St. Patrick's Day when he met his soulmate Rosemel Cavaiolo. They were wed just 6 months later on September 17, 1980, and shared a blessed union of true love and mutual respect for 42 years.

Jack was a member of the Niagara Mohawk Gaslighters and Retirees Club, member of the Covenant Community, past board member of The Rome Hospital Foundation, Coordinator for the Boilermaker Media Truck for 25 years, and in 2022 he was recognized as the Volunteer of the Year. Jack's flair for conversation and love of people and his community lead to many lasting friendships.

He leaves behind his loving wife, Rosemel Atkinson; sister-in-law, Georgine Cavaiolo; brother-in-law and sister-in-law, Frank and Shirley Cavaiolo, his faithful canine companion, Cooper; and many cousins and wonderful friends. He was predeceased by his parents, Gerald and Marion Atkinson; mother-in-law and father-in-law, Angela and Pasquale Cavaiolo.