GORDON DALEY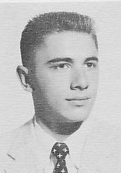 PLEASANT VALLEY - Gordon S. Daley, 72, of Pleasant Valley died suddenly Tuesday, December 6, 2011 in Pleasant Valley.

Born in Poughkeepsie on March 2, 1939, he was the son of the late Louis and Anna Jesoneak Daley. He was a graduate of Arlington High School, Class of 1957. On March 15, 1957 at St. Stanislaus Church in Pleasant Valley, Gordon married Brenda Pink. Mrs. Daley survives at home.

He was the owner/operator of Daley Sanitation in Pleasant Valley from 1988 to the present.

Mr. Daley was an Honorary Life Member of Pleasant Valley Fire Co. and enjoyed fishing, skeet shooting, race cars, football and basketball.

In addition to his wife Brenda, he is survived by his 5 children; Jeffery J. Daley and his wife Colleen, Gordon Daley Jr. and his wife Karleen, Robin Daley and his wife Patricia, Kimberly Daley, and Keith Daley and his partner Mary Rice; his grandchildren,Christopher Daley and his wife Stephanie , Brandon Daley, Kerri Daley , Heather Skidmore, Robin Daley, Jr. and his wife Jessica, Morgan Tanner and her husband Paul, Anthony Daley, Danielle Powers and her husband Eric, Ashley Morgan, Dana Morgan, and Paige Daley; his great grandchildren, Aaron , Kaden, Jacob, James, Julianna, and Eric; and sisters in law, Ginda Harden and Nancy Daley along with several nieces & nephews. He was predeceased by his 2 brothers L. Donald Daley and Robert Daley.

There will be no calling hours and services and burial will be at the convenience of the family.

Friends and family will be received Sunday from 2 to 5 pm at the First Presbyterian Church, Main St. Pleasant Valley.

Arrangements have been entrusted to Allen Funeral Home, 1605 Main St., Pleasant Valley.

Memorial donations may be made in Gordon's memory to Pleasant Valley Fire Co., or First Presbyterian Church in Pleasant Valley.