BARBARA (CAHILL) CHACE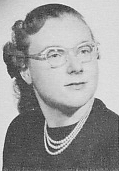 BEVERLY HILLS, FLORIDA — Barbara A. Chace, 68, a resident of Beverly Hills, FL. since 1987, formerly of Poughkeepsie, died Wednesday, September 6, 2006 at Seven Rivers Regional Medical Center. Mrs. Chace was a retired keypunch operator for IBM Corporation, Poughkeepsie.

Born on February 5, 1938 in Poughkeepsie, she was the daughter of the late Joseph T. Cahill, Sr. and Mildred Silvernail Cahill. She was of Christian faith and was active in Grace Ministries in Beverly Hills, FL.

Survivors include her husband of 25 years, Ernest Chace of Beverly Hills, FL. and her sister-in-law, Vivian Cahill of Poughkeepsie. In addition to her parents, she was predeceased by her brother, Joseph T. Cahill, Jr.

Calling hours will be 10-11 a.m., Friday, Sept. 15, at Allen Funeral Home, 1605 Main St., Pleasant Valley. Funeral services will follow at 11 a.m., in the funeral home. Interment will be in the Washington Hollow Cemetery, Salt Point. Memorials in her name may be sent to Alpha and Omega Ministry - New Ark, P.O. Box 294, Christiana, PA 10509-0294.